I have been searching high and low for a honeycomb shaped stencil since I posted about my obsession last week.  After perusing all corners of the internet I came up empty handed.  I took matters into my own hands and whipped up a printable stencil and painted my son's toy box.  I loved how easy this project was so I just have to share my free printable stencil with all of you! 
First you need to print out the stencil on regular old printer paper and cut it out.
I traced the stencil onto an old file folder.  This allowed me to have firmer paper when I outline it onto my furniture.
Then I cut it out.
I painted this toy box using a 4oz sample of CeCe Caldwell's Chalk and Clay Paints in Santa Fe Turquoise with a smidge of Cottonwood Sienna to give it a vintage green hue.
I measured the middle of the toy box , using a leveler and a piece of chalk, I drew a line to keep me centered when I outlined my honeycomb pattern.
And then I started tracing. And tracing.
I have to give a shout out to my mint green nail polish.  Yup.  Minty fresh nails. 
Here is the top of the toy box all traced up.
To paint over my chalk outline I used a small angled paintbrush.  When painting small patterns I prefer angled brushes because I can move my brush in any direction and still get a crisp, clean line.
I chose Nantucket Spray for my honeycomb color.  It has a soft hint of mint to it.  Do I need to remind you that I lurve mint?  
Once I had the top all painted I couldn't resist standing back and admiring it.
More lovely honeycomb.
I also painted the bottom molding and the lip of the lid to give it some extra umph and sealed it with Durable Satin Finish to protect it from sticky toddler hands.
I am so happy with how this little project turned out!  And in case you are wondering if all of that tracing is worth it, I timed myself, start to finish, on the entire project.  It only took me 45 minutes to trace the whole toy box and then paint over the chalk outlines. 
If you are wanting some honeycomb in your home you are in luck!  You can download the free printable stencil here!
What are you planning on honeycombing?  A wall?  A painted rug?  I would love for you to share your projects with me by posting a pic on my Facebook wall or send me a tweet on Twitter!
Have a great weekend and happy honeycombing!
Happy Monday!  Are ya'll ready for fall?  This weather is perfect for spray paintin'!
I picked up this little guy at a thrift store for $5.00. 
And I spray painted it with 3 thin coats of Krylon Fusion in Bright White Gloss.
I added a lampshade I found at the same Thrift Store.
The lamp shade was still tagged from it's original retail home for $59.00.  But I snagged it for $4.00!  So in total, including the spray paint, my lamp cost me around $13.00. 
And while we are at it, let's peek at 9 more spray painted lamp inspirations!
The Frugal Homemaker took similar brassy lamps and spray painting them bright white! 
Vixen Made spray painted her lamps in this fun shade of orange.
White House Black Shutters totally revamped this floor lamp using spray paint!
This Handmade Circus took a grandma-hand-me-down looking lamp and transformed it into a turquoise treasure.

 

Kimmy Noonen spray painted this lamp for a nursery and added this fun lampshade.

 

Positively Splendid reused her lamp AND the shade both with spray paint!  Loving the honeycomb design!
Adoring this fun pop of red from bhg.com
This lamp from Thrift Décor Chick is adoraballs spray painted in brushed nickel.
This pineapple shaped lamp from Remodelaholic is recycled with a simple spray of yellow.
And a quick shout out to my banking BFF, Cliff, for the title of this post, Revamp My Lamp.  Back in my office days he revamped his own lamp and brought it up to the office to show me.  He told me he was going to start his own blog called Revamp My Lamp.  And then we proceeded to laugh until we cried.  Oh, sometimes I miss office banter!
What can you revamp with a can of spray paint?
Hey Refunkers!  I have taken this last week off from blogging for Labor Day travels, but I am back in the saddle, and ready to get back to refunking!  I am kicking this week off with my painted striped curtains that I made for my hoarding room redo. 
I have been swooning over modern, striped curtains lately. I knew I wanted dark gray stripes so I looked on the web for premade curtains.  No luck.  I then looked for gray, wide-striped, fabric.  No again.  Nuthin. So I took matters into my own hands and decided to paint some myself.  If I can paint furniture and walls, surely I can paint some curtains, right? 
I started out with this curtain from Target for $9.99.  I just purchased one because it's a small window.
I first took the curtain out of the package and ironed it.  Since being self-employed I realized I couldn't find my iron anywhere.  Clearly I don't work in finance anymore.
I then laid out the curtain and measured the width of the stripes and marked them with a gray piece of chalk. And since I am painting with CeCe Caldwell's Pittsburgh Gray, you would never see my chalk marks every 12 inches.
The curtain was 84" long so had 7 even stripes that were 12" wide.
I taped off the stripes using my favorite painter's tape, Frogtape.  It never fails to provide a clean, crisp line.
I also marked an "X" on the stripes where I wanted to leave the curtain white.  This kept me on track and helps me not get carried away painting the wrong stripe. (You can't really tell I ironed the curtain in this picture, huh?  I guess my ironing skills are a little rusty!)
I used two samples of Pittsburgh Gray, the darkest gray in the CeCe Caldwell line of paints.  I simply poured the paint onto a foam plate (paper plates soak up paint so I prefer the styrofoam plates for painting.  Hey, I am using Eco-Friendly paints so it balances out, right?)
I also used cheap foam rollers from Harbor Freight.  I think they cost me $1.99.
I put an old sheet down under the curtain to prevent bleed-thru and I got to painting!
I let the paint dry for about 30 minutes and then I had to run to the grocery store, so I draped the curtains over my dining room chairs while I ran my errand.  Mainly because my dog ran across the curtain and left some paw marks on the tile.  I was sure she would have a painting party while I was out.
Dude, my dining room is a pigsty. 
When I got home I had to pull the Frogtape off, just to see it's clean, crisp, perfection of a line.  Ahhh!  There is something so rewarding about a perfect line!
And here are the curtains all hung, ready for guests to enjoy in the new guest bedroom.
There are a few tiny spots where I didn't apply the paint thick enough, but I'm okay with it. It was my first try at painted curtains and I will know to paint two coats the next time around. It's just my guest bedroom so at least I won't have to look at it and be annoyed everyday. If it bothers my houseguests, then they can just go home! Ha! Just kidding! (unless you are my in-laws… Again, to my sister-in-laws, Shirley and Judy, if you are reading this that was a joke too.
)
Now I want to use the same technique and paint some curtains for my formal dining room.  I just have to find curtains that are 99" long.  Or bust out my sewing machine (that is still in the box from Christmas, by the way…) and make some myself. 
I am not quite ready to reveal the full guest bedroom redo just yet.  But what do you think about the sneak peek at the curtains?
I bit the dust and spray painted the antlers this weekend.  And I don't regret it one bit!
I have been lusting, obsessing, and dreaming about some high-gloss white antlers to hang in my bedroom for months.  And when I finally found them, I was totally hesitant to paint real antlers.  Like some sort of Bambi induced guilt I had never felt before.
I swung by Wal-Mart to pick up some glossy white spray paint.  My original plan was to spray a thin-coat of Kilz spray paint primer and then top off with several thin coats of glossy white.
If you have ever taken one of my workshops then you know my  spray paint and any paint philosophy is thin, thin, thin coats.
I then spotted Krylon Fusion for Plastic in White Gloss.
Now, you might be scratching your head wondering… "For plastic?  I thought these were legitimate antlers?"
After reading the can I noticed it is really a no prep spray paint for all surfaces, including wood, metal, wicker, and more.   It was 0nly .50 more than the regular Krylon and Kilz is about $5.00/can so I was SOLD!
It was a great spray paint, adhered perfectly, and the coverage was wonderful.  I sprayed the antlers, front and back, with about 5 thin, thin, thin coats.
Here is the final product:
(Sorry, the picture isn't great, but this corner of by bedroom doesn't get much natural light.)
I love how they look against the grey walls.  I smile every time I have walked by them!
I did have a temporary moment of insanity, while sipping on a glass of wine Saturday night, I started messing with the wallpaper in my dining room and tore some of it off.
More on this project later this week…  I can't even talk about it right now.  I will be traveling a bunch the next three weeks (including going to Texas for a CeCe Caldwell's retailers workshop! Yay!) so how I am going to tackle this task is beyond me?
So, any wallpaper peeling advice?  Methods?
I am excited.
I am nervous.
I am debating on which piece to use it on.
Can you tell I have a love/hate relationship with new products?
It comes in powdered form and you mix it with hot water.
I have heard that is really unpredictable when it comes to the chipping and flaking ~ which sounds dangerous and exciting.
Clearly I need a night out alone with my hubs if Milk Paint gets me going like that!
See?
missmustardseed.blogspot.com
I purchased it at Woodcraft on Britton & May in Oklahoma City. I am embarrassed to say that I have never been in there! They were super nice and helpful and didn't treat me like a dumb blonde like the guys at the Home Depot counter do.
I bought Slate, Snow White, and Pitch Black.
I am having a hard time finding tutorials online, so I will let you know how it goes.
Wish me luck! This weekend is my 30th birthday so I might just cash in some alone time- with me and my new milk paint of course!
Have you worked with Milk Paint? If so, please email me with any tips, tricks, and photos you might have!

I just LOVE this idea! My bestie Jenn wanted to take old dressers and make them garden planter boxes. She knows I am a sucker for a crafty experiment and she also knows that she has to use one of the only benefits of being my friend, which is getting free furniture painting services! (Ha! Just kidding)
We found some dressers on Craigslist. I think this one was $10.00.
Painted them my signature Turquoise Color..
Glazed with Van Dyke Brown and added some cute knobs.
We sprayed 6 coats of spray-on Min-Wax Polyurethane to help it hold up to the elements. We did this project in April, and now it is July and it still looks good as new.
We then drilled holes in the bottom to allow water to run out, and added some dirt and plants and
WAH-LA!
Isn't it gorgeous!?!
Then she got really inspired and painted old windows and backed them with vintage potato sacks and painted her garden boxes to match.
She also painted a $25.00 dresser white…
Before:
After:
She planned on using it in her garden as well, but she ended up just sticking it in her backyard and using it for grilling and gardening tools, toys, etc.
These added such a touch of charm and originality to her backyard… I am JEALOUS!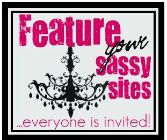 I am submitting a new show/series idea to A&E, sort of a sister show to Intervention. This one is called Pintervention and it features women like me, panting, sweating, feverishly typing, obessing, following and pinning anything and everything on
Pinterest
.
So what is Pinterest?
Pinterest is a Virtual Pinboard.
Pinterest lets you organize and share all the beautiful things you find on the web. People use pinboards to plan their weddings, decorate their homes, and organize their favorite recipes.
Best of all, you can browse pinboards created by other people. Browsing pinboards is a fun way to discover new things and get inspiration from people who share your interests.
To get started, request an invite by sending me an email to
allison@refunkmyjunk.com
.
I think it's stupid you have to "be invited" but whatever…
I love Pinterest because when you "Pin" an image it also has the link to the image so you can go back to where you found it. My Favorites Toolbar on my computer is ever so grateful, as it was pretty darn cluttered with projects, inspiration, and crafts that I wanted to go back and do… But since it was such a darn mess I could never find what I was looking for!
I also love it because you can 'Follow" your friends and see what they are pinning.
Want to buy your friend a birthday gift? Look at their Pinterest!
And lastly, but not least, I can see what decor and furniture colors people are coveting. It keeps me ahead of the curve on what people want in their homes. LOVE IT!
Here's a few of my favorite Pins thus far:

www.etsy.com
Moss Intitial. I. Will. Make. This.

http://teachcraftlove.blogspot.com
Love this wreath!

A Pink Kitchen?

www.design-seed.com
Color Board

www.styleswoon.com
Love this combo!

http://shabbyfufu.blogspot.com
To Die for!
If you want to follow me on Pinterest Click HERE!
Happy Pinning!

Before:
Missing knob, water stains on top… Has sort of a 'crack house' feel to it.
(Seriously, not like I've ever been in one, but if I did, I bet this table would be smack dab in the middle of it! And on a side note: I think I have been watching too much Intervention.)
After:
Notice the fancy fabric lined drawers?
Remember these knobs I got on my trip to Los Angeles? Well, here they are!
I am happy with this red painted end-table makeover! From crack to class! (Clearly, no more A&E for me this week!)

I bought this little patriotic piece at Goodwill and I immediately was excited…
Before
After
See what I was excited about? I am in love with peacock feathers!
Modge Podge + scrapbook paper = Refunked!
On a side note: I am now on the hunt for peacock wrapping paper! I have been scouring online, any and all stores, and no luck! If you find some PLEASE buy some for me or at least tell me where you found it! When I can't find exactly what I want I obsess over it! Argh! In the meantime I will just look at my tray and hope for a whole roll of this fabulousness!

Posted on :